What to Do During a Lockout
08/13/2016
Back To Blog
This can be one of the worst things to happen to a person, especially if you have a busy day planned. With a house lockout, you actually have more options than if you are locked out of an apartment. But neither experience is an easy one to get through, and neither is one you'll want happening again in future.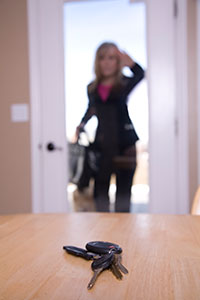 In this article we want to provide a simple and brief list of the most important things to keep in mind.
1. Calm Down
True- apartment lockout is no laughing matter, but a rather stressful event many people go through at one point or another. Calming down might sound obvious, but it really is important. You need to calm in order to think the situation through. Did you lose your keys? Are you sure they are not anywhere available to you? Is there any family neighbor or a friend that can help? If the answer is no, or you have the only key locked inside, it is time for the next step.
2. Do Not Break Anything!
Another reason it's very important to firstly calm down, is to not do anything rush. Breaking a window, kicking down the door or trying to break the door, will not only cost you much more in the long run, but will leave you bare to possible thieves looking out just for cases like these. It will do more harm than good.
3. Call an Emergency Locksmith Company
Many emergency locksmith companies will offer an immediate lockout service for people in this desperate situation. Based on your circumstances they will figure out the best way to unlock the front door while causing no damage to your lock, door or window. This way you can safely gain access to your home once again. Of course, if you've lost the key, you can ask the locksmith to make you a new one while he's at it. This is definitely the best solution!